Description
Proper drug testing is a multi-step process, this bundle screens for the widest range of substances—at a discount.
5-in-1 Complete Drug Test Kit Contents

Ecstasy (MDMA) Test Kit (Marquis Test): This is the main test kit for Ecstasy. It also screens for a wide range of other substances.
Product details: MDMA Test Kit »
---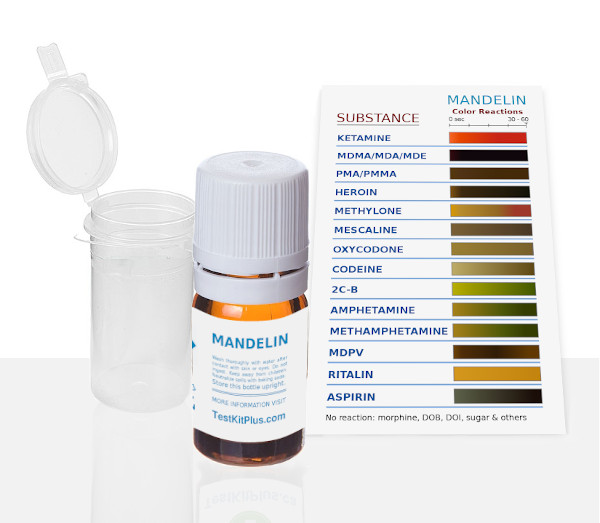 Ketamine/PMA Test (Mandelin Test): This kit detects the presence of ketamine, Ecstasy, as well as the dangerous cuts PMA and PMMA.
Product details: Ketamine/PMA Test Kit »
---

Opiate Test Kit (Mecke Test): This test produces distinct results with Ecstasy as well as DXM (which is often sold as fake Ecstasy). It's also a good test for opiates like heroin, morphine and codeine.
Product details: Opiate Test Kit »
---

Folin Test Kit: This test differentiates between MDMA, MDA, and MDE. It also detects piperazines (such as BZP and TFMPP).
Product details: Folin Test Kit »
---

LSD Test Kit: This kit tests for the presence of LSD and other indoles, which helps you avoid harmful compounds like 2C-I-NBOMEe.
Product details: LSD Test Kit »
---
Kit Also Includes
Color chart for each test
5 x Multiple-use testing vial
Protective transport jar
More Info
For the most up-to-date color reaction results, see our drug testing results page.
Notice
While reagent testing is the best method for on-the-spot testing, it is never 100% conclusive. There are many variables that can impact what the reaction looks like. Lighting, impurities, and unwanted substances in your sample may all play a role.
No drug (whether legal or illegal) is completely safe, we recommend avoiding all recreational drug use.