Marquis Reagent Description
The Marquis reagent is a primary test for MDMA (Molly/Ecstasy), meth/amphetamines, synthetic cathinones (bath salts),"NBOMe" compounds as well as other substances.
Our Marquis reagent contains the same reagent chemicals as found in U.S. Justice Department reagents. A chart showing color reactions, as well as a multi-use testing vial, are also included with the kit.
To make it easier to find this product, we also list the Marquis reagent as an MDMA test kit on our site.

Test Kit Includes:
Bottle with testing fluid
Color chart with instructions
Multiple-use testing vial
Protective storage/transport jar
Marquis Reagent Color Reactions
Marquis Reagent Color Chart Image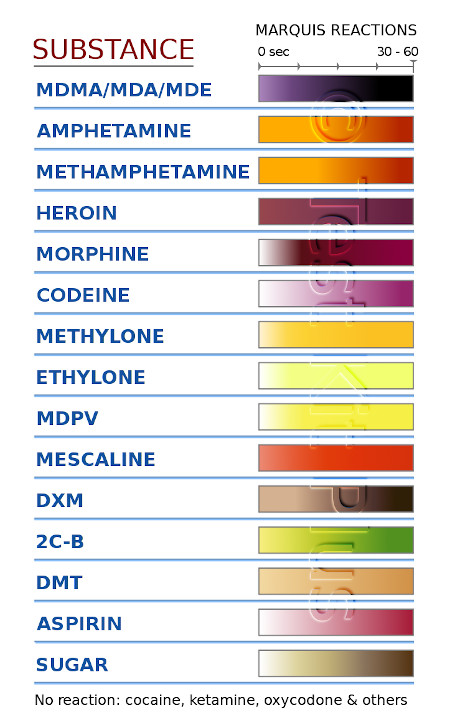 While other substances may also produce color changes, we have found Marquis to change colors with:
25I-NBOMe, 2C-B, 2C-E, 2C-I, 3-MeO-PCE, 3-MeO-PCP, 5-APB, 5-MeO-DMT, 6-APB, amphetamine, aspirin, codeine, DMT, ethylone, heroin, ibuprofen, lisdexamfetamine (Vyvanse), MDA, MDE, MDMA, MDPV, mescaline, methamphetamine, methylone, modafinil (Provigil), morphine, oxycodone, sugar, xylazine
Notice
While reagent testing is the best method for on-the-spot testing, it is never 100% conclusive. There are many variables that can impact the reaction. Lighting, impurities, and unwanted substances in your sample may all play a role.
No drug (whether legal or illegal) is completely safe, we recommend avoiding all recreational drug use.