Mandelin Reagent Description
The Mandelin reagent is a versatile product that can be used to test compounds such as MDMA, meth/amphetamine, and can screen for the highly dangerous PMA/PMMA cuts.
Our Mandelin reagent contains the same reagent chemicals as found in U.S. Justice Department reagents. A chart showing color reactions, as well as a multi-use testing vial, are also included with the kit.
Test Kit Includes:
Bottle with testing fluid
Color chart with instructions
Multiple-use testing vial
Protective storage/transport jar
Test Tips:
If you're using this test to check for MDMA (Molly/Ecstasy), you should expect to see a the test liquid turn a dark blue/black color within just a few of seconds of contact with the sample. See an MDMA test demo video showing the Mandelin reagent reaction with MDMA.
It's always better to test with multiple test liquids, such as the Marquis test, and the Mecke test. If you can afford it, we highly recommend getting more than one test.
The testing vial that comes with the kit helps prevent your skin from contacting the reagent while testing. Extra testing vials are also great for when you're on the go. But, using a white ceramic plate can help you see the results more easily.
Mandelin Reagent Color Reactions
Mandelin Reagent Color Chart Image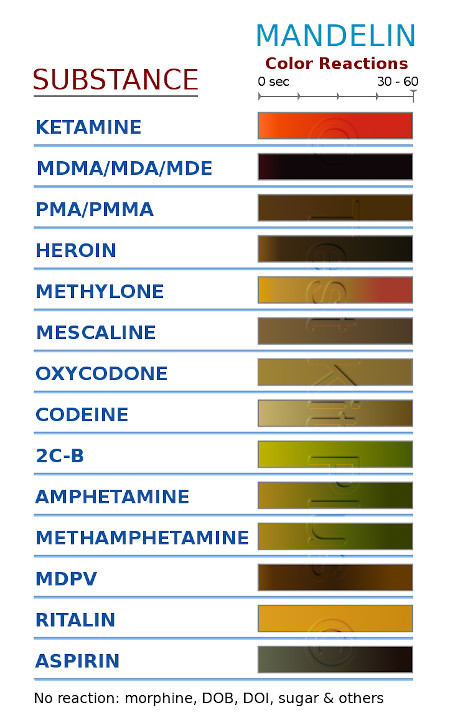 While other substances may also produce color changes, we have found Mandelin to change colors with:
2C-B, 2C-E, 2C-I, 3-MeO-PCE, 3-MeO-PCP, 5-APB, 5-MeO-DMT, 6-APB, amphetamine, aspirin, benzocaine, DMT, ephedrine, ethylone, heroin, ibuprofen, ketamine, levamisole, lidocaine, MDA, MDE, MDMA, MDPV, mephedrone, mescaline, methamphetamine, methylone, modafinil (Provigil), MXE, MXP, paracetamol (acetaminophen, Tylenol), phenacetin, PMA, PMMA, procaine, sugar, vitamin C, xylazine
Notice
While reagent testing is the best method for on-the-spot testing, it is never 100% conclusive. There are many variables that can impact the reaction. Lighting, impurities, and unwanted substances in your sample may all play a role.
No drug (whether legal or illegal) is completely safe, we recommend avoiding all recreational drug use.