Froehde Reagent Description
Use the Froehde reagent testing kit to:
Identify 5-APB and 6-APB, which react similarly to MDMA with the Marquis test. Froehde yields dark purple with 5-APB/6-APB, and black with MDMA/MDA/MDE.
Test for

synthetic cathinones

(aka "bath salts") like methylone, ethylone, and MDPV.
Screen for the dangerous compounds PMA and PMMA, which are sometimes sold as MDMA.
Screen for cuts in ketamine, as this test doesn't change colors with pure ketamine.
Test Kit Includes:
Bottle with testing fluid
Color chart with instructions
Multiple-use testing vial
Protective storage/transport jar
Test Kit instructions
Put a small sample into the testing vial. Your sample should be about this size: (●)
Hold the testing vial above the open plastic jar, so that if a drop misses the vial, it will land in the jar.
Place 1-2 drops of the testing liquid from the dropper bottle onto the sample. DO NOT let the sample touch the bottle nozzle, or the reagent will get contaminated!
Watch the color change over 30-60 sec.
Compare the reaction color with the color chart provided.
Tightly close the dropper bottle. If you're using more than one testing fluid, make sure you only open one bottle at a time. If you accidentally switch caps, the testing liquid will get contaminated and ruined.
Thoroughly wash the testing vial after each use.
Store the dropper bottle in a cold place to maximize shelf life, like a freezer.
Froehde Reagent Color Reactions
Froehde Reagent Color Chart Image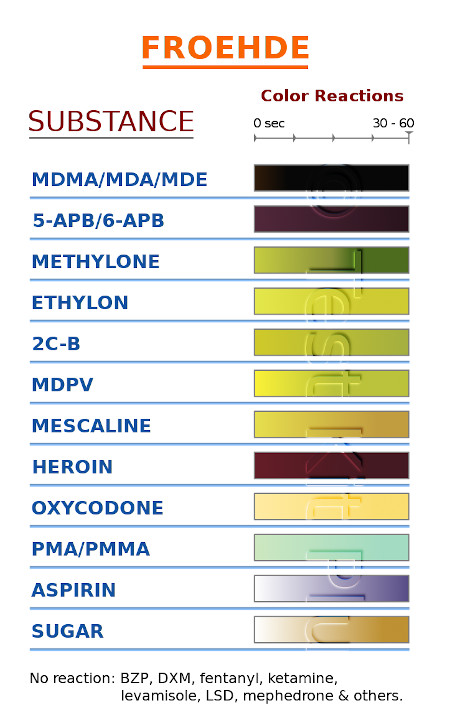 While other substances may also produce color changes, we have found Froehde to change colors with:
25I-NBOMe, 2C-B, 2C-E, 2C-I, 3-MeO-PCP, 5-APB, 5-MeO-DMT, 6-APB, DMT, ephedrine, ethylone, heroin, MDA, MDE, MDMA, mescaline, methylone, modafinil (Provigil), morphine, paracetamol (acetaminophen, Tylenol), phenacetin, PMA, PMMA, sugar, vitamin C
Notice
While reagent testing is the best method for on-the-spot testing, it is never 100% conclusive. There are many variables that can impact what the reaction looks like. Lighting, impurities, and unwanted substances in your sample may all play a role.
No drug (whether legal or illegal) is completely safe, we recommend avoiding all recreational drug use.