Description
Use this test kit:
As your primary test for DMT.
As a follow-up test for LSD. The primary test for LSD is the Ehrlich test.
This kit contains the Hofmann test, which is the primary test for DMT. Hofmann is recommended as a secondary test for LSD. Our LSD (Ehrlich) test kit is the primary test for LSD.
DMT Test Kit Package Video Demo
Test Kit Includes:
Bottle with testing fluid
Color chart with instructions
Multiple-use testing vial
Protective storage/transport jar
Color Reactions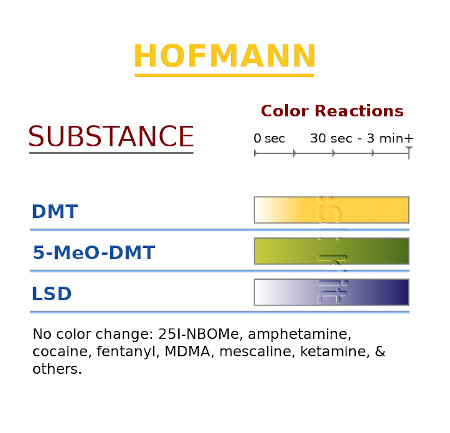 Notice
While reagent testing is the best method for on-the-spot testing, it is never 100% conclusive. There are many variables that can impact what the reaction looks like. Lighting, impurities, and unwanted substances in your sample may all play a role.
No drug (whether legal or illegal) is completely safe, we recommend avoiding all recreational drug use.