Ehrlich Reagent Description
The Ehrlich reagent is a primary test for LSD, DMT, and other indole compounds. Psilocybin ("Magic") mushrooms can also be tested with Ehrlich.
Our Ehrlich reagent is the "improved Ehrlich reagent", "improved hallucinogen reagent", and is also known as "Ehrlich 2.0". It has a longer shelf life, produces less fumes, and works just as well as classic Ehrlich. A chart showing color reactions, as well as a multi-use testing vial, are also included with the kit.
To make it easier to find this product, we also list the Ehrlich reagent as an LSD test kit on our site.

Test Kit Includes:
Testing fluid
Color chart with instructions
Multiple-use testing vial
Protective storage/transport jar
Ehrlich Reagent Color Reactions
Ehrlich Reagent Color Chart Image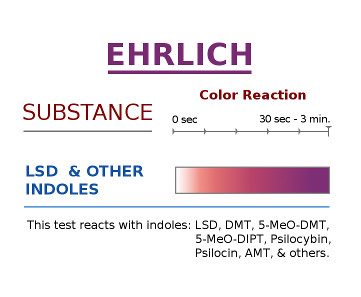 While other substances may also produce color changes, we have found Ehrlich to produce color changes with:
1P-LSD, 5-MeO-DMT, 6-APB, AL-LAD, benzocaine, DMT, LSD, procaine, psilocybin
Psilocybin ("Magic") Mushroom Test Tips
You may be able to test mushrooms with the Ehrlich test. Grind a small part of the mushroom to test on a white ceramic plate or in the testing vial included with your kit. For best results, test both part of the cap and the stem. Some mushrooms have low concentrations of psilocybin (the active substance in psychedelic mushrooms) in the stem, but higher concentrations in the cap, and vice versa. Testing both cap and stem increases the chances of a positive result, which would be a pink/purple color with this test. The reaction is often slow with mushrooms, please allow 30 minutes or more.
Notice
While reagent testing is the best method for on-the-spot testing, it is never 100% conclusive. There are many variables that can impact the reaction. Lighting, impurities, and unwanted substances in your sample may all play a role.
No drug (whether legal or illegal) is completely safe, we recommend avoiding all recreational drug use.