Xylazine is a non-opioid tranquilizer used as a sedative, analgesic, and muscle relaxant by veterinarians for animals including horse and cattle. Recently, it is frequently found in the recreational drug supply, most commonly in opioids such as heroin and fentanyl. Combining xylazine with other drugs that cause central nervous system depression compounds the sedative effects, and can increase the risk of overdose and death.
Our Xylazine Test Strips can detect even small amounts of xylazine in liquids or powders (concentrations at or above 0.0001 mg/ml).
Xylazine Testing Procedure
Bring tests and samles to room temperature 59-86°F (15-30°C) before use.
Dilute the drug to be tested in water. The Center for Forensic Science Research and Education (CFSRE) recommends adding 5-10mg of drug sample to 5ml of water. 10mg microscoops are available to help you get the right amount.
Remove the test strip from its sealed pouch and use it as soon as possible. For best results, the test should be performed within one hour.
Hold the strip by the end, where the product name (XYL) is printed. To avoid contamination, do not touch the strip membrane (the white section of the strip).
Holding the strip vertically, dip the test strip in the liquid for at least 10-15 seconds. Immerse the strip where the wavy lines are, but not above the solid (maximum) line on the test strip.
Remove the strip from the sample and place it on a non-absorbent flat surface. Start the timer and wait for the colored line(s) to appear.
A negative result can be interpreted as soon as both the test (T) and control (C) lines appear. A positive result can be interpreted once the control line has appeared and the background has cleared to white, typically by 60 seconds. Do not read results after 10 minutes.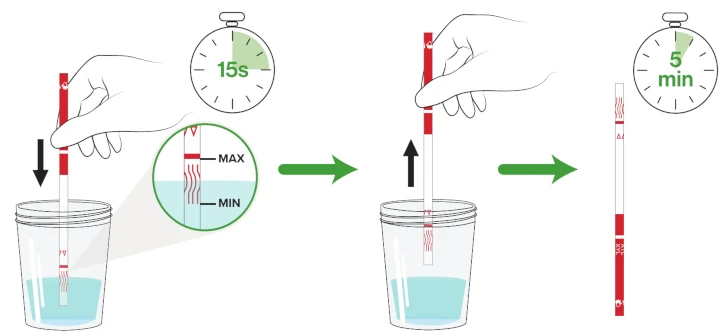 Xylazine Test Results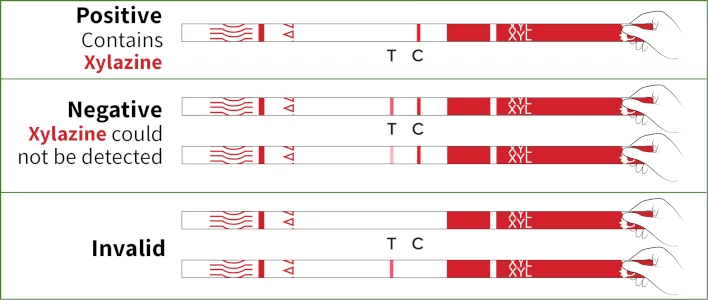 Important Notice
No test device gives 100% conclusive results. A negative result does not mean the substance being examined is safe to consume.
No drug (whether legal or illegal) is completely safe, we recommend avoiding all recreational drug use.