This heroin purity test is a quick test for heroin that will give you an idea about its purity. With this test you are able to find out whether and how much the heroin has been cut. Use it after you've tested your sample with the Opiates (Mecke) test, which gives an indication of whether or not Heroin is present in the first place.
Dealers cut heroin to increase their profit margins. The substances used for cutting are sometimes harmless, but sometimes dangerous substances are added. As a general guideline you can say that when there is a high percentage of heroin present in the sample, you are close to the top source and the cut of dangerous adulterants are diminished. This test does not tell you anything about the adulterants that were used to cut the sample with.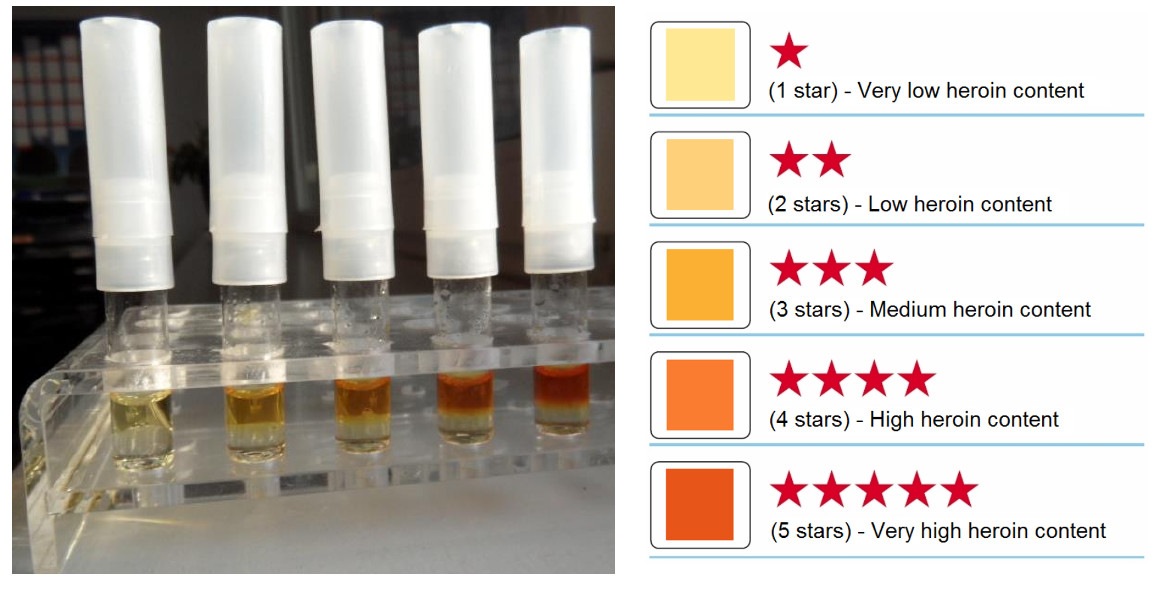 Heroin Purity Test Kit Includes
10 heroin purity tests

10 spatulas

Instruction sheet
Important
Please use only 20 mg (a tiny amount) of your sample. If you use too much, the results will be skewed! When comparing different samples, test using the same quantity from each. You can use the materials that come with the kit to help you get the right amount. However, for best results, use a scale to weigh the exact amount of powder. You can buy a good portable digital scale from here:
Tips
Test samples from different sources at the same time, so that you can more easily compare results. Take pictures of the test results under the same lighting and with the same camera. Use the pictures to compare with results from future tests.
Heroin Purity Test Instruction Video

Note: This test does not require the use of a buffer solution as shown in the above video. Heroin colors the top layer in the ampoule, not the bottom layer. Scale and ampoule rack are not included, but you can get them separately.
Note
No drug (whether legal or illegal) is completely safe, we recommend avoiding all recreational drug use.