Description
Use this kit as your primary test for the presence of ketamine (Special K). It's also a good test for cocaine.
Our Ketamine Test Kit contains what is also known as the Morris reagent. It is considered an excellent test for ketamine because no other compound has been found to produce a similar purple/lavender color.
Note that Morris is different from most other reagent tests in a few ways:
Morris is a two part test, meaning 2 different reagents (labelled Morris A and Morris B) are added to the sample.
The mixture is stirred for 30 seconds to get the final result.
The reagent is sensitive to the sample quantity. For best results, use a 5-10 mg sample. You may use a micro scoop to help you get the right amount.
No reaction, or a negative result, is a green color as shown in the provided color chart. Stirring Morris A and Morris B together without a sample produces the same green color.
Morris binds to the sample producing a color change, most other reagents dissolve the sample during the chemical reaction.
Ideally, you would test ketamine using more than one test. Using multiple tests decreases the chances of a false positive, and can help identify cuts. If you can afford it, we recommend testing ketamine with the ketamine test kit package, which includes 4 tests.
Ketamine Test – Video Demo
Test Kit Includes:
2 bottles (Morris A and Morris B) with testing fluid
Color chart with instructions
Multiple-use testing vial
Protective storage/transport jar
Morris Reactions After 30 Sec. Stirring (5-10 mg Sample)

No sample/reaction

Ketamine reaction

Cocaine reaction
---
More Color Reactions: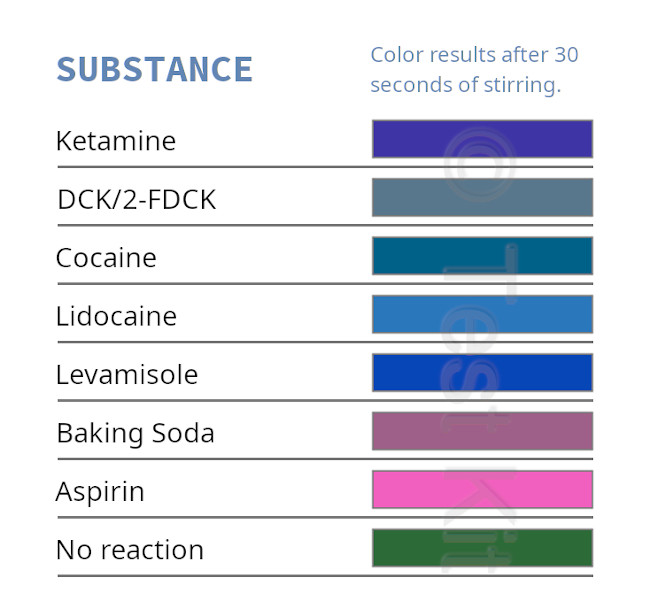 More Info
For the most up-to-date color reaction results, see our drug testing results page.
Notice
While reagent testing is the best method for on-the-spot testing, it is never 100% conclusive. There are many variables that can impact what the reaction looks like. Lighting, impurities, and unwanted substances in your sample may all play a role.
No drug (whether legal or illegal) is completely safe, we recommend avoiding all recreational drug use.